Treasured Possessions
~Treasured Possessions~
A story of pirates, loot and curses
You meet fellow pirates Captain Flaskheart and Lady de Wild in your secret cove to share the possessions you have accumulated. To split the treasures, you play a game of bluff and double-guessing.
But some treasures are cursed! If you take too many of them you will be possessed and lose the game…
How to play
Every turn, the three players bet for two treasures: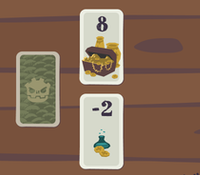 To bet, simply click on one of your cards:

The player with the highest card takes the best treasure, at the top.
The player with the lowest card takes the other treasure at the bottom.
The other player takes nothin'!
In case of ties:
If two players play the same card, they cancel each other and the third player takes both treasures.
If all three players play the same card, the treasures are discarded.
The game ends when all cards have been played (12 turns). You only have one card of each value, so bet wisely!
Who is the winner?
When all cards are played, the winner is decided as follow:
The player with the most curses (with the voodoo sign) is eliminated.
Then among the remaining players the one with the most normal treasures is declared the winner.
Example: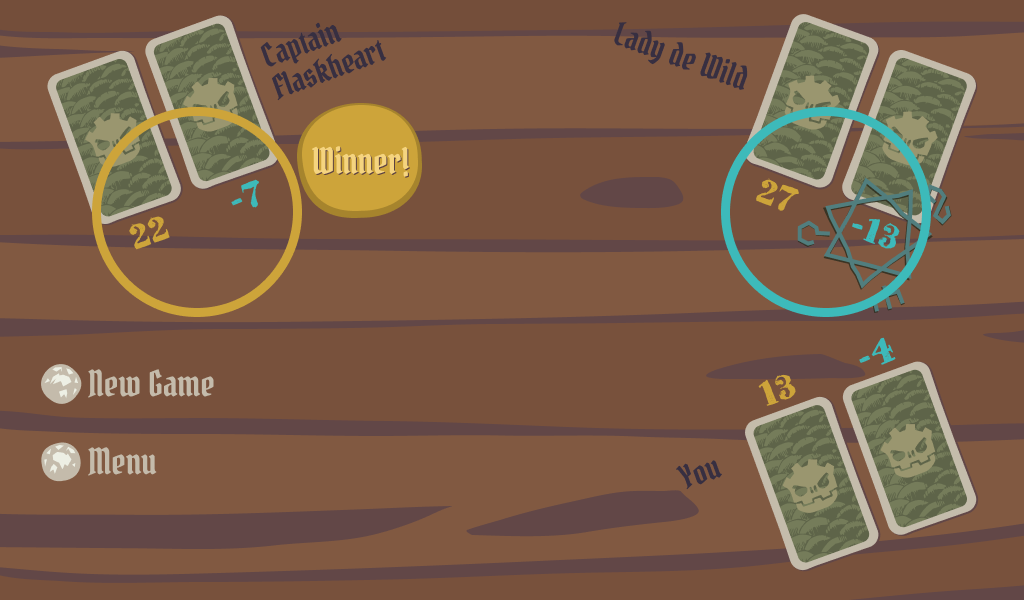 Lady de Wild, circled in blue, has the most good treasures but also the most curses: she is possessed and eliminated!
Among the remaining players, Captain Flaskheart, circled in yellow, has the most good treasures, he is the winner.
Cards distribution
Treasure cards range from -4 to +8, two of each value:

---
A game created for Godot Wild Jam #7. The theme was possession.

Tools
Made with Godot 3.1 - https://godotengine.org/

Designed in Figma
Fonts:
HVD Bodedo
Pirata One
Sounds:
Background sounds
Card sounds (Thanks Dalton5000)
Spell
Winner
Download
Click download now to get access to the following files:
treasured-possessions-linux.zip
21 MB
TreasuredPossessions.dmg
23 MB
treasured-possessions-win.zip
19 MB
treasured-possessions-win32.zip
19 MB